Eén windturbine langs het Albertkanaal ter hoogte van de Langvoortbeemden in Meerhout.


Ten westen van de drie bestaande windturbines van ENGIE Electrabel, wil ENGIE Electrabel een vierde windturbine vergunnen in Meerhout, tussen Gestel en Zittaart. De bestaande lijn van drie windturbines wordt aangevuld tot vier, en vormt zo een parallel met het Albertkanaal en de hoogspanningsinfrastructuur van Elia hierlangs.
Kerncijfers:
| | |
| --- | --- |
| Aantal turbines | 1 |
| Vermogen per turbine | 6.0 MW |
| Equivalent verbruik | 3100 gezinnen |
| CO₂-besparing | 4900 ton/jaar |
Planning:
| | |
| --- | --- |
| 10/09/2021 | Vergunningsaanvraag |
| 4/10/2021 | Informatievergadering |
| Q4 2021 | Beslissing van de overheid |
| Q3 2023 | Start v/d werken |
| Q2 2024 | Indienstname |
Weergave van de inplanting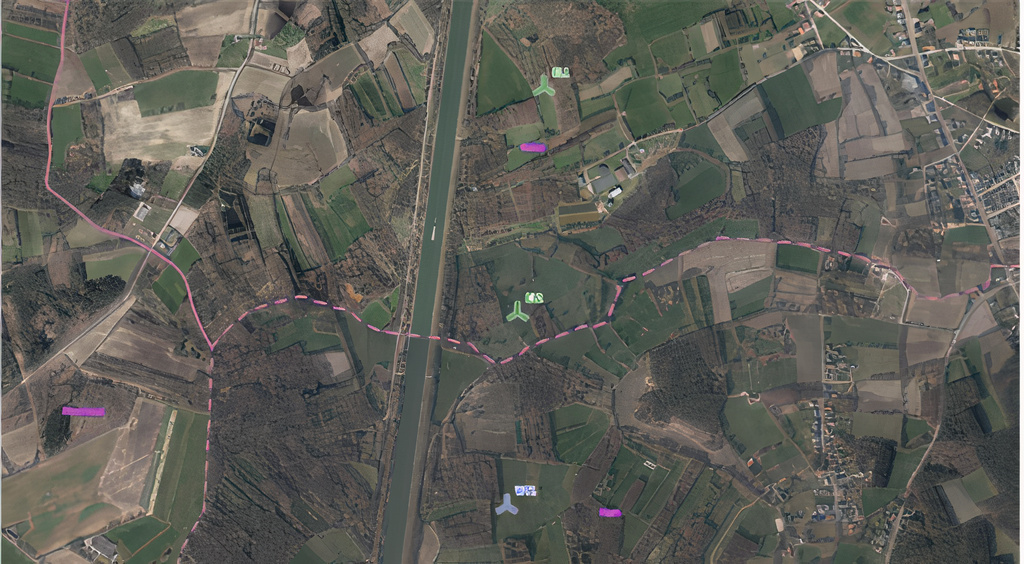 Vragen?
Neem dan contact met ons op via onderstaand e-mailadres.
Updates
Project update
01/10/2021
Op vrijdag 10 september 2021 werd de vergunningsaanvraag voor het windturbineproject Meerhout Extensie ingediend. Volgend op de acceptering door de vergunningsverlenende overheid (provincie Antwerpen) gaat het openbaar onderzoek van start in de week van 4 oktober. Dit loopt tot de week van 1 november. Tijdens dit onderzoek kan iedereen zijn of haar opmerkingen en/of bezwaren meedelen aan het college van burgemeester en schepenen. Om omwonenden alvast op een voldoende transparante manier te informeren over deze plannen, organiseert ENGIE Electrabel naar aanleiding hiervan een infomarkt op woensdag 20 oktober in Parochiezaal Gestel (Turkenhof z/n, 2450 Meerhout). Van 17u00 tot 21u00 doorlopend kunnen omwonenden hier terecht met vragen omtrent dit project. Omwonenden van het project ontvangen hiertoe binnenkort een uitnodiging in de brievenbus.

Mocht u op voorhand reeds vragen hebben, of mocht u verhinderd zijn om de infomarkt bij te wonen, neem dan gerust contact op met projectleider Michiel Stevens via renewableadministration@engie.com om een (online) overleg of telefoongesprek in te plannen.